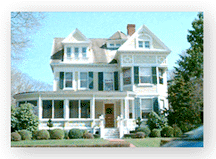 The purchase of a new home or the ownership of a home is often the largest financial investment made by a family or an individual.

The decisions you make regarding your home will impact your security and your family's future.

With over 15 years of real experience, Attorney Brian David Brown invites you to call his office for an initial consultation, at no charge, before you sign an Offer to Purchase, a Purchase and Sale Agreement or any other legal document.

The earlier you contact Attorney Brown, the more smoothly the transaction will progress and the more effectively he can protect your legal and financial interests.

As closing counsel approved by many banks, mortgage companies and correspondent lenders, Attorney Brown can assist you in exploring more financing options than you alone have likely considered.

Attorney Brown specializes in representing buyers, sellers and developers of residential real estate, as well as institutional and private mortgage lenders. This broad experience enables him to asses your legal rights and remedies from all sides of your transaction to provide you with skilled and comprehensive legal representation.